Tips and Info
How many photographers and cinematographers do you need for a function?
---
The answer to this question usually depends on the gathering size. For a very small gathering eg. less than 50 guests we usually recommend hiring 1 photographer and 1 cinematographer. For 50-120 guests, we recoomend 2 photographers and 2 cinematographers. For 120- 250, we recommend 3+3 and so on. You can expect about 700+ raw images per photographer or around 180 fully edited images after selection. This is an approximation and actual number may vary.
---
What type of professional do you need?
---
Photography is an art and all artists have different skillset and different years of experience. We have a lot of talent in our workforce and we keep hiring the fresh talent. So it totally depends on your budget and requirements which will help you decide you choose. We offer three levels. Higher the level, higher will the skillset of the person and higher experience.
This is an example of Level 1 and Level 3 professional. Here we can see the added benefit of playing with extra set of lights which is used to highlight the bride and groom's face and dress.
---
About the equipment.
---
Our professionals use the latest and greatest of tools to carry out a job. Sometimes we want to push the boundaries even further and want to capture more. There are several things happening parallelly in an event and a photographer with one camera can focus on one thing only. Sometimes we want a group shot and also a close up shot. If a photographer is shooting a wide shot either he needs to change the lens or call another photographer to take the close up shot. And this takes time and by the time he changes the lens or calls his fellow mate, the moment is gone.

The solution to this is to equip the photographer with 2 cameras. So we provide this option. If you choose this option your photographer will shoot with 2 cameras and hopefully you will get more beautiful moments captured.

This is how your photographer will look with extra equipment.
---
How much editing do you need?
---
Some people prefer the straight out of the camera look and want to edit it in their own style where as some want basic colour correction and basic editing. Some may want to take it to a next level and want a full retouching. It is all upto your taste. The editing is done on the selected number of photographs which is usually 1/5th in number, of the total photographs clicked.
---
How do you want to collect the photographs and videos?
---
There are two ways.
1. In person and in your hard disk.

2. Online via safe and secure link.

This will save you time and travelling cost. This is fast and you can quickly share the link with family and friends. The link will be available for a week and you can easily download it when you have time. The shared link works beautifully in both mobile and computer web browsers. It is by far the best and most intutive way to enjoy your precious moments.


P.S We also offer long term online storage and view options. Please ask us if you are interested in that. This will give you the power to access your best memories from anyhwere and any device.
---
About the selection of photographs.
---
It is the most time taking process as there will thousands of pictures to go through. Usually there are 5-10 thousand images in a wedding. The final selection is usually about 1/5th of that number which goes into editing. There is another benefit of leaving the burden of selection on us that sometimes a photograph is clicked to be edited in a certain way and the result if totally different from the raw picture. So this way you wont miss on those special images.
---
What is a 360 degree slo mo video?
---
This is an awesome place for your guests to get memento from your wedding. We make a fun 360 degree slow motion video and share it with the guests instantly so that you dont have any work to do in future. This is super interesting and gathers a lot of apprecation from the guests. You will get a lot of compliments that the event was great fun.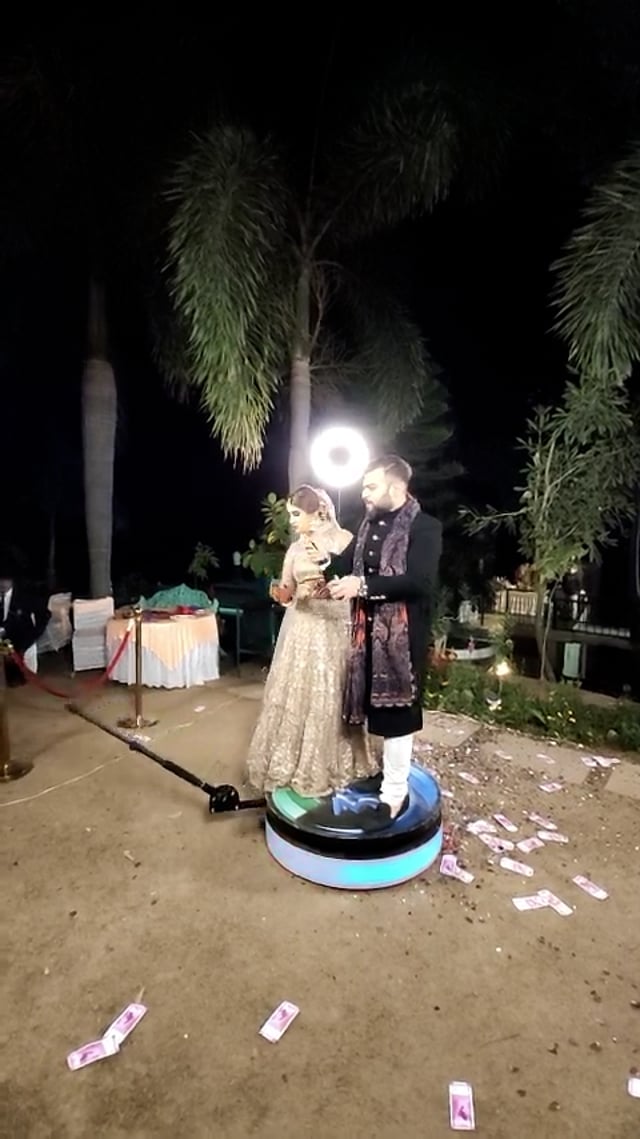 ---
What is a selfie booth?
---
Another awesome feature that we provide is to give a photograph to your guests. It can be digital or a hard copy. We also privide luxury frames(please ask for costing). The digital only option costs Rs 15000/-, 200 prints option costs Rs. 20000/-, 400 prints option costs Rs 25000/-.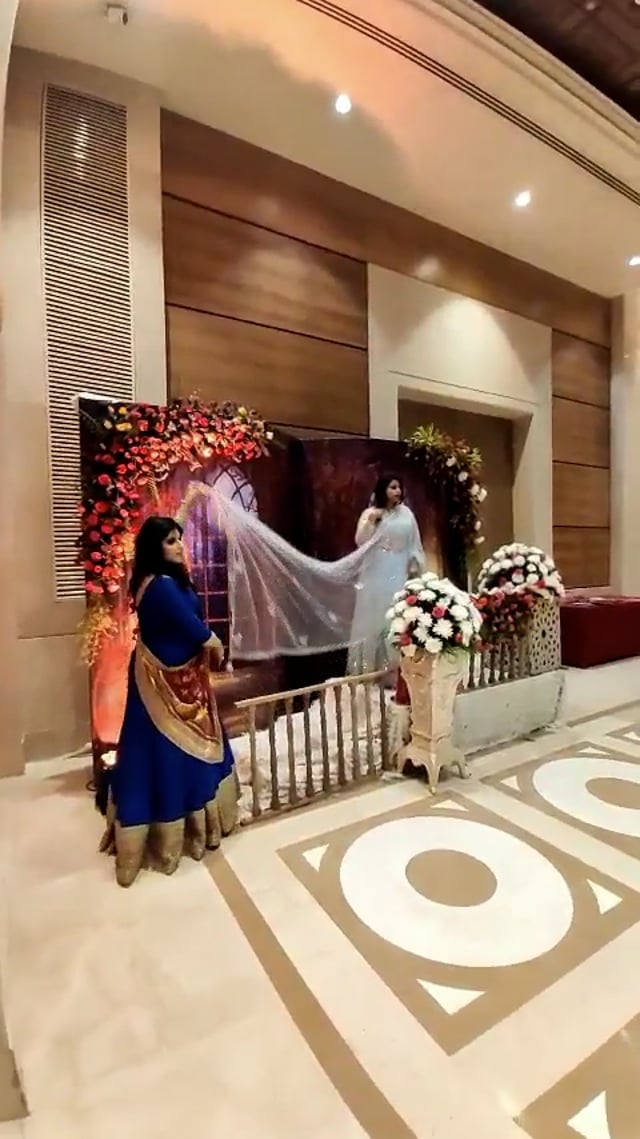 ---
About Insurance
---
We take extra precautions at every step. We backup our data and we bring two sets of camera's to the shoot. Sometimes in rare occurances these steps might not be enough. One thing that covid 19 has taught us that we cant take anything for granted. So it can be a good option to buy insurance for any unforeseen circumstances. In case you dont get the final delivery you can claim your insurance to get a full refund.
---
---